INTRODUCTION
In our days, when people hear of the island of Cyprus, in the Eastern Mediterranean Sea, the usual images that enter their minds revolve around golden sandy beaches with warm turquoise waters, high-end hotels, hot sun, and perhaps a few might even think of the (still on-going) Cyprus Problem, one of the few remaining unresolved conflicts in the world. But few, very few people would conjure images of skiing on this most southerly outskirt of Europe. Yet, skiing - snow skiing that is - adds the sparking diamond on this island gem of the Mediterranean....

GEOGRAPHY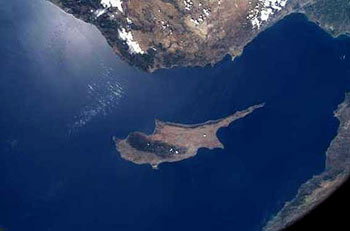 Cyprus is the third largest island of the Mediterranean Sea. Centered on the 35th parallel, it is situated at the eastern end of the basin. It has an area of 9,251Km2, and a population of around 800,000 people. It has two mountain ranges: the lower northern one, which runs parallel to the north coast and reaches an elevation of 3,359ft only, and the southern one which covers most of the southern half of the island, with several peaks exceeding 5,000ft and the highest one, Mt. Olympus, reaching 6,402ft. Between the two mountain ranges a large, wheat growing plain is located, and Nicosia, the capital of 250,000 is situated in its center. All the other major cities are situated on the coast and are renowned tourist resorts (see map).

GOVERNMENT & POLITICS (THE CYPRUS PROBLEM)
Cyprus is an independent republic, with a president and parliament. The population consists of 78% Greeks, 18% Turkish, 2% Armenians, and 2% other minorities. Cyprus gained its independence from Great Britain in 1960, but unfortunately the colonization left its mark in producing tension between the Greeks and Turks on the mainland. In July 1974, a military coup d'état attempted to overthrow the nominate president of the republic. Using the coup as an excuse, Turkey invaded the island to "restore" democracy, in the process leaving a long trail of dead and missing, and ultimately occupying the northern 37% of the island. Although the nominate government regained control very soon, Turkey refused to return the occupied area, and 27 years later still illegally occupies 37% of the area of the Republic of Cyprus, refusing the right of 200,000+ refugees to return to their homes. In addition, Turkey erected a "pseudo-government" in the occupied areas that declared "independence" in 1983, but has received no recognition, only condemnation. At the present time, talks and negotiations are still underway regarding a peaceful settlement of the Cyprus Issue, but Turkey has this far fully denied to release the areas it occupies on the island.

In the meantime, Cyprus is in the accession process for the European Union, with membership expected around 2004.

PASSPORTS & VISAS
Foreigners visiting Cyprus must have a valid passport. No visa is required for citizens of countries members of the European Union. For visitors from other countries, a visa may be required. Please inquire at Cypriot embassies or consulates for further information.

CLIMATE
During the winter months, temperatures near the coast rise to the 20s (Celsius!) with lows around 10. On the mountains it can be much colder. In sunny conditions, temperatures can reach 4 or 5 degrees, but in clouds or snow they may drop to -5 or much lower. The sea temperature reaches a low point in March of about 17 centigrade (it can reach 30 in August).

When to go: February and March are the best bets for powder, while from mid-March through the end of season corn snow predominates. Very rarely is the snow cover enough for decent skiing before February.

TRANSPORTATION & DRIVING
How to get here: At the time there are no direct flights from N. America to Larnaca (LCA) airport in Cyprus, but there are frequent and direct flights from all major European cities by most European airlines. There are daily flights from London Heathrow, Zurich, Amsterdam, Frankfurt, Athens, by airlines such as British Airways, Swissair, KLM, Austrian, Lufthansa, and Cyprus Airways. In addition, there are very frequent connections (often daily) to major Middle Eastern cities.

Car rental is widely available throughout the island at very reasonable fares, and can usually be arranged upon arrival at the airport, or even beforehand through a travel agent. There is decent public transportation (coaches) between the cities, as well as much faster taxies, which work on a regular timetables. All the cities have very efficient transportation systems (buses).

A system of 4- or 6- lane highways of interstate standards connects all the major cities. Driving is on the left hand side of the road. The mountain roads are very good (if with many bends), but after heavy snowfalls expect long-lasting road closures, as the highway crews are under-equipped and no salt is used. Snow-chains or four-wheel drive cars though are frequently needed for the last 5-6 miles to the resort.

COMMUNICATIONS
There are direct phone links to practically all countries in the world at very reasonable rates. Mobile phones are heavily used, and fax machines are also widely available. There are many internet cafes in all major cities, and quite a few of the smaller settlements also harbor internet cafes.

CURRENCY & BANKING
The currency of Cyprus is the Cyprus Pound, equivalent to 1.6 US$ in late December 2000. Traveler cheques, VISA, MASTERCARD, and other credit cards are widely accepted and used. Currency may be exchanged only at banks (which though seem to have branches practically everywhere), though dollars are usually accepted in major establishments in the tourist areas.

WORKING HOURS
Government: Monday-Friday, 7.30am to 2.30pm
Thursday, 2.30pm to 6pm.
Banks: Monday-Friday 8.30am to 12.30pm
Monday, 3.15pm to 4.45pm
Note: In tourist areas, certain banks remain open every afternoon but offer only currency exchange services.

Shops: Monday - Saturday 8am to 1pm. In the afternoon, most shops are open from 2.30pm to 6pm in the winter, and from 4pm to 7pm in the summer, except on Wednesdays and Saturdays. A few shops may open outside these hours.

Most important holidays are 1st January, 6th January, Greek Orthodox Easter, 25th of March, 1st April, 1st May, 1st October, and 25th and 26th of December. all of the above are public holidays.

ELECTRICITY
AC 13A, 220V

ECONOMY
Despite the tremendous setback of the 1974 Turkish Invasion, Cyprus has again flourished thanks to will of its people. New houses were built, new areas cultivated, and most importantly, the various governments since 1974 have heavily invested into turning the free area of the island into a tourist heaven, something which in which they have succeeded. Today, all the coastal cities are major tourist resorts, with a total of 2.8 million tourists visiting the island during the year 2000, mostly from northern and western Europe. Ayia Napa on the southeast coast is regarded as one of the top hot-spots of the Med, in league with Ibiza and Mykonos, while the other cities are not far behind in their success.

Cost of Life: Pretty much similar to most of Europe. Expect $25-30 for a decent dinner in a decent restaurant for two persons. A 36-film costs $5. A pint of local beer costs $2. You get the idea.

FOOD, DRINKS & PARTY
Cyprus is well known for all of the above. Excellent local food, a huge variety of international restaurants from Italian and French to Chinese and Thai, and of course MacDonalds for those on a budget. Cyprus produces excellent local wine (heavily exported to Europe), some tasty liquors, great beer, and the local strong specialty known as Zivania. There are après-diner places to suit every taste, from the quiet and romantic to Greek bouzouki taverns to modern Clubs and Discos. Ayia Napa, on the southeastern coast now competes with Ibiza for new wave music, with the vast majority of well known European DJs passing through at one time or another.

OTHER ACTIVITIES
Cyprus is small, but it offers superb hiking, rock-climbing, mountain biking, skydiving, bungee-jumping, and a host of other outdoors sports. The crystal-clear waters of the Mediterranean are popular for diving, snorkeling, or scuba-diving, also for sea fishing. There is also fishing in several reservoirs for fish like large mouth bass, catfish, or trout. There are literally hundreds of archaeological sites reaching from the Neolithic era to the Classical to the Roman to the Modern times. Also, for the more adventurous, Cyprus is just a hop away from Beirut hotels (half an hour with airplane) or Tel-Aviv, with is Biblical venues. Cruises to Lebanon, Israel, Egypt, or a combination are also widely available.