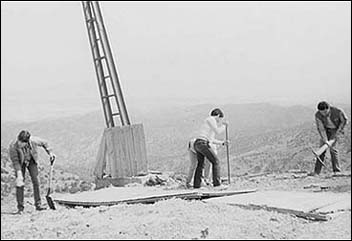 Works on the top of North Face (Summer 1980)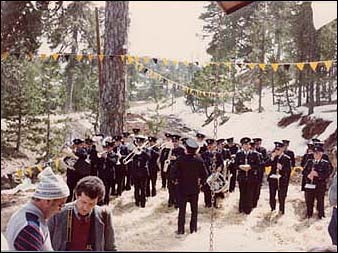 The sport of skiing first appeared on Cyprus sometime around 1934, when a group of people created the first "Mountaineering Club" of the island. Unfortunately though, the ensuing World War II meant that the development of skiing was delayed for several years.
The Cyprus Ski Club was created on March 2, 1947 and since then it has a leading role in the development of skiing on the island. The first lift was built and operated on the eastern face of Mt Olympus using primitive equipment, while a second lift was built in 1951 near the "Dolphin" restaurant, to the west of Troodos Square (the remnants of this lift, which was powered by the engine of a Ford truck, can still be seen).
After the independence of Cyprus in 1960, the Ski Club developed into its modern form, with a ski Federation under the auspices of the FIS, and four regional clubs (Nicosia, Limassol, Troodos, and Famagusta) competing in various skiing competitions. Until 1968, mobile lifts operated by the British Army were used, but in 1968 the first lift owned by the CSC was built at Sun Valley 1. The big lift at North Face was the second to be built, followed by Hermes (Sun Valley 2) in 1973, and Hera (North Face 2) in 1986. Simultaneously, more trails were created reaching 9 by 1986. Each of the lifts has its own base area with a cafeteria, and the various lifts are interconnected by a trail network.
Alongside of the development of the area, the CSC initiated the tradition of skiing lessons for the school children of the area from the 1959 season onwards. In 1960, the Federation introduced the annual Pan Cyprian ski competitions. Since 1963, Cypriot skiers have started participating in international competitions, with first participation in the World Championships coming in the year 1978 at Garmish, Germany. The first Olympic participation of Cyprus took place in the 1980 Olympics at Lake Placid. Ever since, Cyprus has been actively participating in the various regional competitions, as well as the World Championships and the Olympics.
Today many hundreds of Cypriots and perhaps as many foreigners enjoy the wonderful sport of skiing every winter on the beautiful slopes of Mt Olympus. Skiing, with its 60 year plus history on this island, is here not only to stay, but to continue its growth.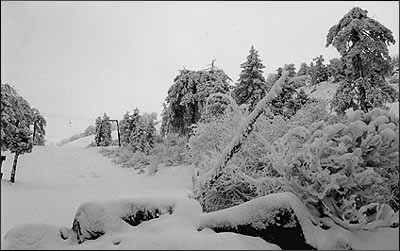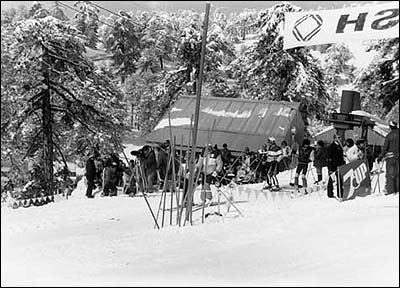 North Face before the erection of Dias Restaurant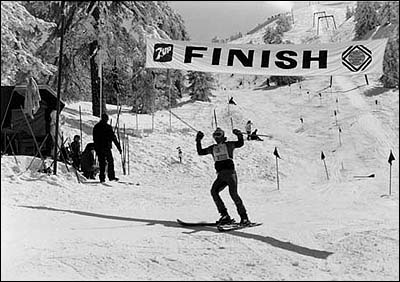 A race on North Face back in 1980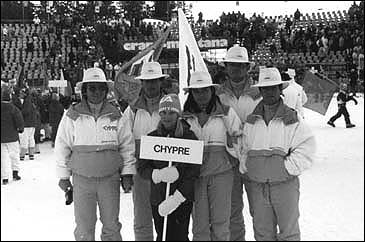 Participation of Cyprus in Crans Montana championship